Youth Participation
York & Hull Methodist District
The µYPS project is a new York & Hull District-wide scheme to involve more young people in the Church, through 3-hours paid work a week for the church or a local community project supported by the church as well as being part of a number of training weekends away to explore skills and faith.
2012/13 Intern Projects
For 2012/13 there were 9 young people taking part, with a wide range of different projects involving incredibly varied activities. These range from technology to football clubs, youth work to district-wide events. Two of the 2012/13 interns were from Cottingham - Rhys and Rosie. Below are a few details about the work they did doing within Cottingham Methodist Church.
Rhys' project had a range of different roles, mostly technology related! The main area was working with the website developer for the creation of the new church website (which you're using now!) to make sure it fits the criteria of what we want for our church. Rhys is also in charge of creating service media and slides each week, assisting with the running of our monthly Film Nights, creating posters and advertising for church events, and chairing the church's 'Communications Team'.
Rosie's project was split into two areas: working with the current set-up of Downstairs Church to try and encourage more families to join, and trying to establish some form of provision for students within the church as well as making new students living in Cottingham aware of what Cottingham Methodist Church could offer them.
Below is a kind of blog, giving some brief details about the Training Weekends involved in uYPS.
Final Training Weekend, May 2013
The final training weekend for this year's uYPS interns (including Cottingham's Rhys and Rosie) took place at Beverley Friary Youth Hostel at the start of May, and was an opportunity for all the interns to discuss how projects were going and where problems have been found over the year. It aimed to be a more relaxed weekend, with each intern taking part in the organisation of the activities, a prayer labyrinth, and contributing to the cooking!
On the Sunday morning we joined Toll Gavel United Church in Beverley for morning worship and shared each of our projects with them during the service – something we're hoping to arrange with one or two interns not from Cottingham for a service during the summer.
The weekend may have marked the end of the project in terms of the training weekends, however there's still 2-3 months left of our projects, so look out for further work we'll be doing over the summer months!
Meeting the OPPs, February 2013
In February, the uYPS interns from across the York & Hull District spent a 24-hour retreat with the One
Programme Participants at Cliffe College, giving a chance to find out about the different projects they are supporting as well as take part in some activities led by the One Programme leaders.
Activities included looking at youth work, motivation, professional boundaries, social media and respect. We also took part in various team games to get to know the OPPs a little more.
It was a great retreat, and all the interns are looking forward to the final training weekend in May, where we'll also get the opportunity to meet potential interns for next year.
First Training Weekend, October 2012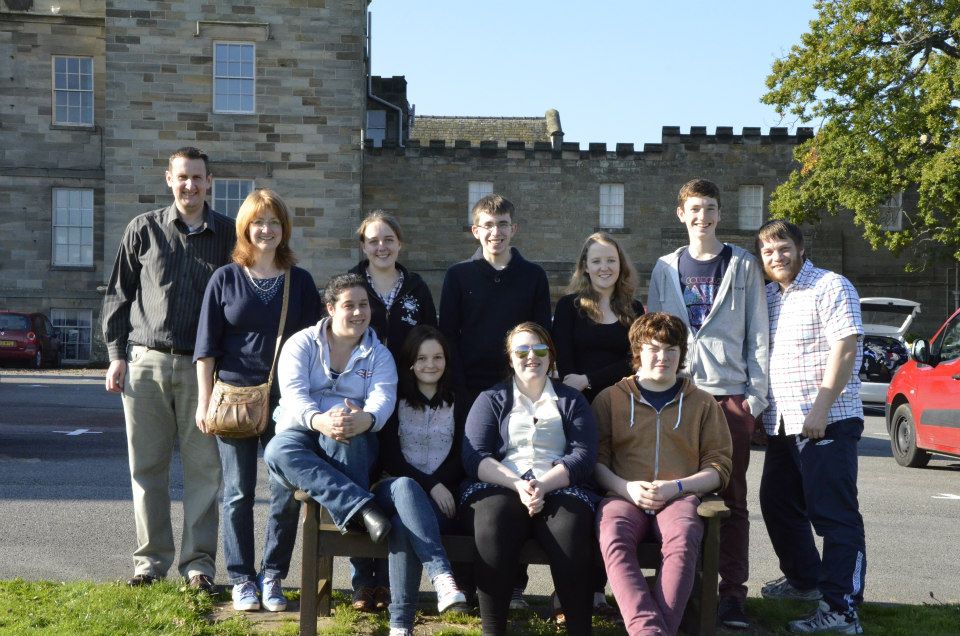 From Cottingham two students, Rhys and Rosie, are both interns, and the first weekend away led by Andy, Karen and Pete took place at Sneaton Castle near Whitby at the end of October. This was an opportunity to meet the other interns, get to know each other, explore faith, and have fun and games along the way!
Everyone had a fantastic and jam-packed weekend, starting with various activities on the Friday night to introduce each other and talk about current relationships with God. This followed by some relaxing worship and some time to think.
The action-packed Saturday looked at personality types, plus forming a human rainbow (as seen at a CMC AGM once before!), and meeting some donkeys! Chair of District Stephen Burgess joined us for lunch and took part in some life-size Angry Birds, before a treasure hunt challenge in Whitby in the afternoon. The day concluded with sharing different ways our Churches are involved in the community and a time to relax with a DVD.
The Sunday consisted of time of worship with everyone using their different skills to put together a communion service with lots of songs and praise. This followed with reflection on the weekend and how our journeys of faith had changed, and discussions about where we all go on from there!